Your yacht tender is your link to shore.
In choosing the best dinghy for you and your crew, here are some things to consider:
Roominess, buoyancy, and carrying capacity
Stability and unsinkability
Functionality in an emergency
Roominess, buoyancy, and carrying capacity.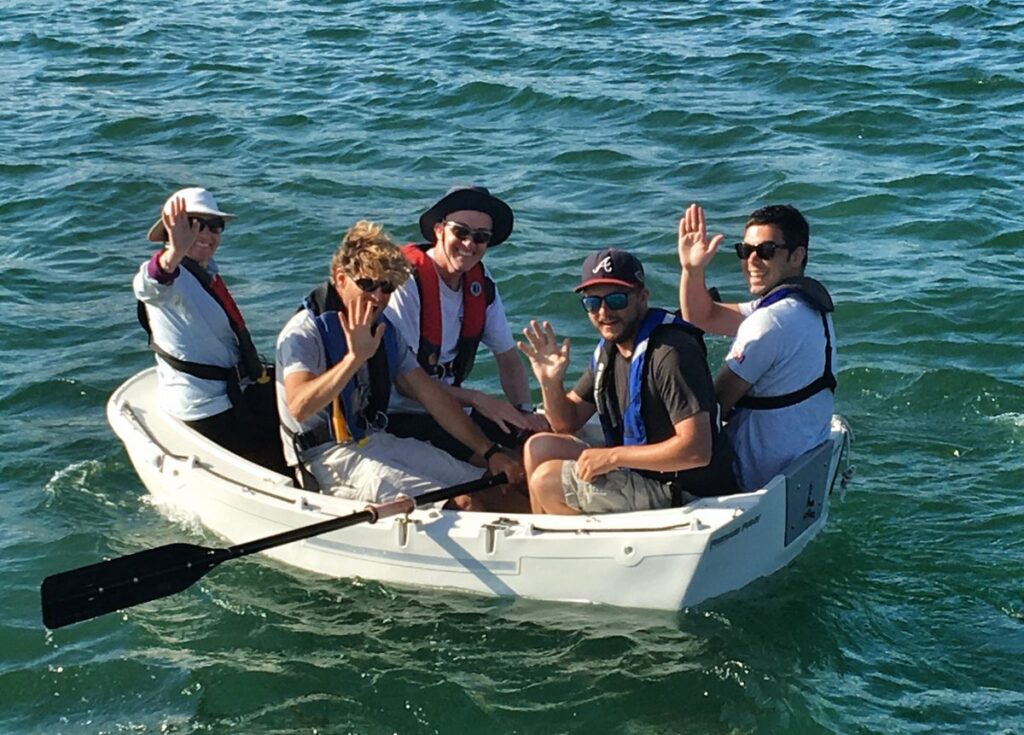 Your dinghy is your "family car" that you load up with groceries, kids, pets, crew, and friends.
Carrying capacity, cockpit size, and storage space are important factors. You don't want one that's so big it's unwieldy and difficult to transport. You don't want one so small that you have to go back and forth to haul people and provisions.
Your tender should be "just right."
The Portland Pudgy is compact and pram-shaped, but it has more space and is rated by the USCG with a higher carrying capacity than many ten foot dinghies. This is because of its amazing buoyancy (closed-cell foam under the floor), and its ingenious design. If you follow the curves of its rounded bow to their logical point, the dinghy is just under ten feet, but the Pudgy has no wasted space in the bow. In addition, there's 12 square feet of storage space in the interior side walls.
Stability and unsinkability.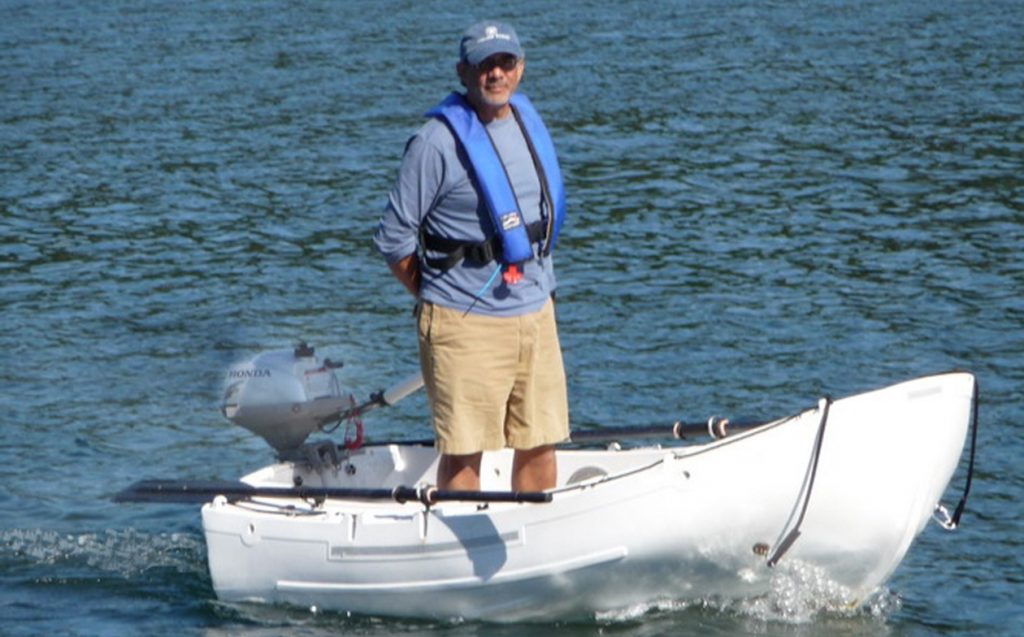 You want a dinghy that's unsinkable and that's difficult to capsize. Dinghies often have to put up with heavy loads and unforgiving seas.
Even if the cockpit and the interior chambers of the Portland Pudgy dinghy are deliberately flooded with water, the boat floats with several inches of freeboard. The Pudgy is unsinkable and it's easy to bail it out, so you need never be stuck in a swamped boat (this can be lifesaving).
It's very difficult to capsize the Portland Pudgy, but if you manage to do it, it's very easy to right, and the boat comes up empty of water because of the thick side walls. Its stability makes it a great boat to use as a platform for fishing, hunting, and photography.
Ruggedness.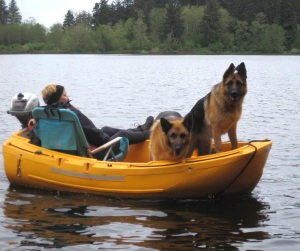 If you're ever in out-of-the-way places without docks, you need a rugged yacht tender that you can beach on rocky shores. You also may need to consider the wear and tear of transporting the family dog. Claws can wreak havoc on inflatable boats. (One way or another, you don't want a dinghy with a hole in it.) The Portland Pudgy is molded with the same tough polyethylene that rugged ocean kayaks are made of.
Sailing.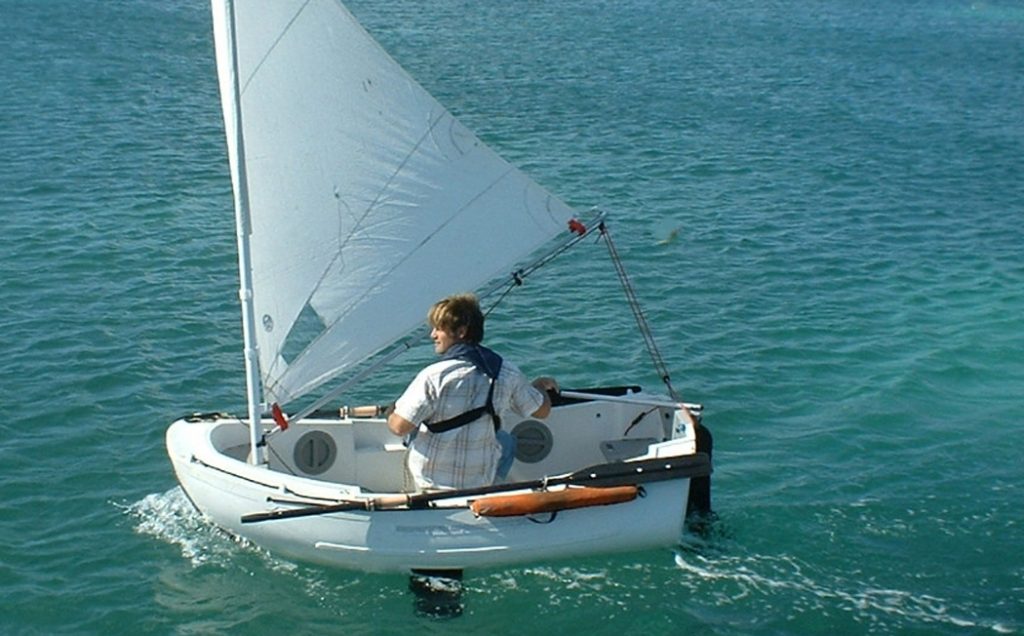 The Pudgy is a fun little recreational sailing dinghy in its own right. With the Pudgy as your yacht tender, once you're in an anchorage or mooring field, it's nice to be able to sail to where you want to go.
The Portland Pudgy is a fun, safe sailboat that lets you sail to shore from your mooring or explore islands and coves that your big boat can't get to. Amazingly, all of the sailing gear (including the mast, gaff, boom, and sail) stow neatly in a bag that fits inside the interior wall space, via the transom hatch!
Ease of transport.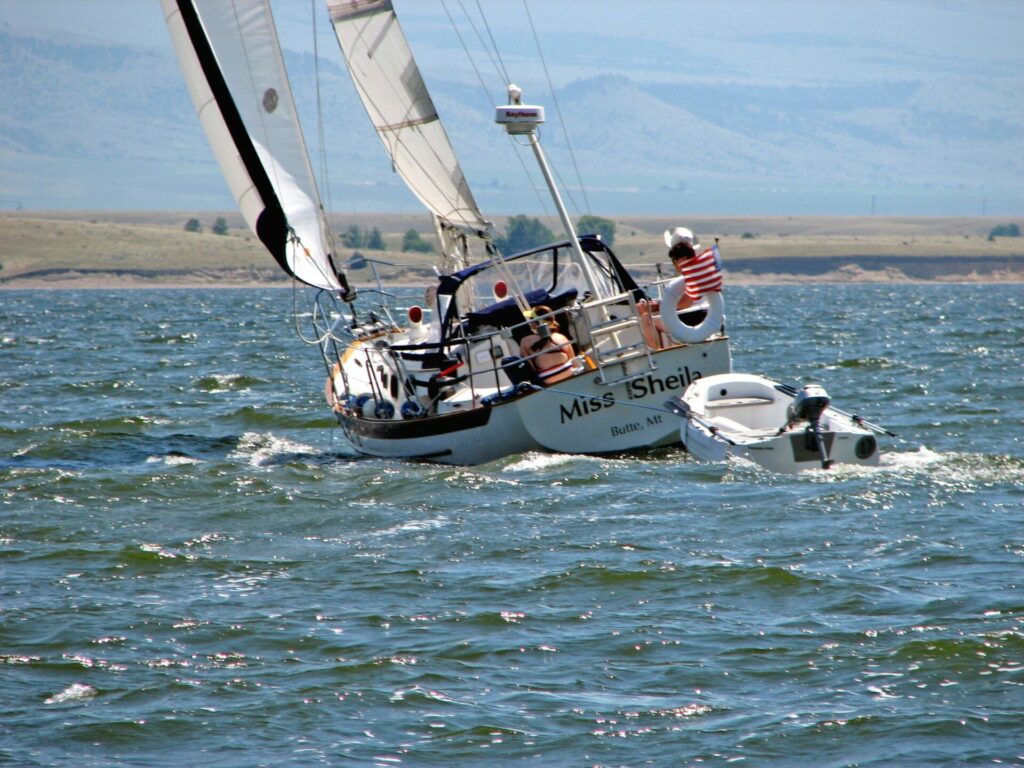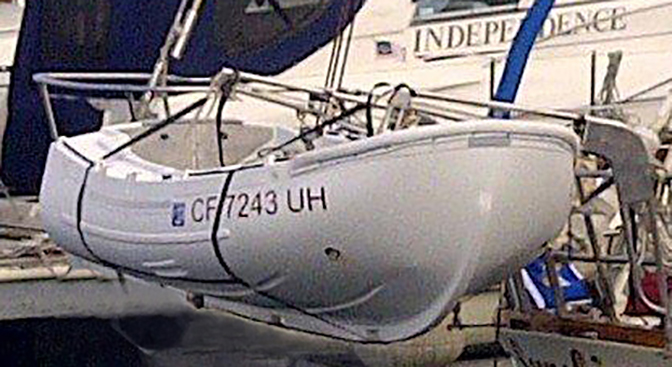 You need a dinghy that's easy to transport, either on deck, on davits, or towed.
For towing, you don't want it to be too heavy, and you don't want a flimsy eggshell. Inflatables are surprisingly heavy and are a drag to tow. Thin-walled plastic dinghies tend to skitter about when towed and flip easily. The Pudgy tows like an arrow and there's very little drag because of its buoyancy.
It's light enough to easily carry on deck or on arm davits or swim platform davits. The Pudgy was designed with a pram shape to make it compact enough to fit on the deck of a moderate sized yacht.
Ease of maintenance (self-bailing, cleaning, bottom paint).
The Pudgy is self-bailing when carrying less than 25 pounds. This means you can leave it at a dock or mooring with the drain plug out and find it riding high after a storm. Same goes for towing it.
It's easy to clean with household cleaning products (or a power washer, if you have one).
Algae, seaweed, and barnacles tend not to like polyethylene, but you might get some. They tend to come right off with routine cleaning. You can use bottom paint (we will do a separate post on this).
Emergency/self-rescue functionality.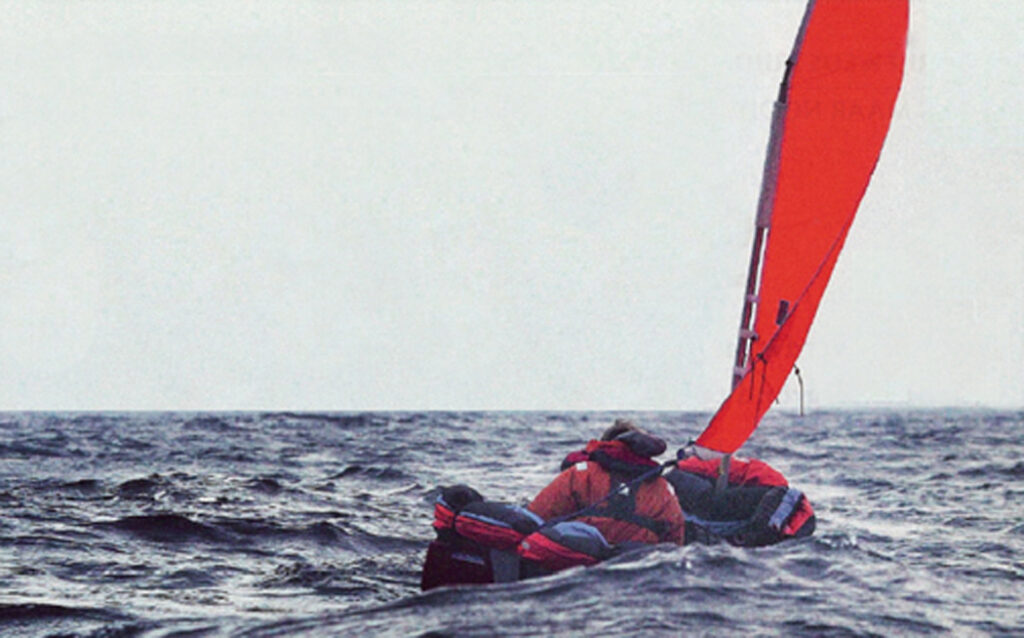 In tales of survival at sea, many survivors recount the horrors of waiting passively in a leaky life raft. Steve Callahan, who survived 76 days adrift, says that if he had had a "dynamic" lifeboat (i.e. one he could have sailed to safety) he would have reached safety in six days from where his boat sank. The Portland Pudgy is unsinkable. It is designed to be used with an exposure canopy and other survival gear (including a sea anchor and sail kit) and you can sail it to safety.
Even without the special gear, the Pudgy's ruggedness, buoyancy, unsinkability, and stability will keep you safer than any other dinghy on the market.
Fun!
All of these things (roominess, stability, unsinkability, great rowing, motoring, and sailing, ease of transport, ease of maintenance, and emergency functionality) work together to make boating more fun. You can relax and enjoy being out on the water when your family and crew are safe. The Portland Pudgy is the fun boat that can save your life.
Contact us.
Interested in a Portland Pudgy?
Give us a call at (207) 761-2428.
Email us at info@portlandpudgy.com.
For prices and information on ordering click here.
Come visit our workshop at 125 John Roberts Road, #23B, South Portland, Maine 04106.