The Portland Pudgy lifeboat is self-contained: all components stow inside the hull storage chamber. (The rudder and leeboards stow under the rear seat.) For pricing information, see the  Price List.
The basic lifeboat system includes the basic boat plus the exposure canopy, the sea anchor, and the boat cover. These are required for an effective system. We also recommend the pump,  boarding ladder/fender, and safety harness eyes. You must supply your own ditch bag.  Add the sail kit to the lifeboat boat system, and the Pudgy becomes a dynamic lifeboat that can be sailed to safety.
The fully rigged lifeboat system includes the exposure canopy, sea anchor, boat cover, pump,  boarding ladder, safety harness eyes, sail kit, electrical system, solar panel, davit harness for arm davits, or Weaver swim platform davits, and bow bumper. See Price List for details.
NOTE: Portland Pudgy, Inc. believes that it is best for you to create your own ditch bag according to your own priorities, needs, and resources.  You can keep one or more ditch bags containing food, medicine, first aid supplies, documentation, money, sunblock, extra eyeglasses, tools, Mylar blankets, etc., along with fishing equipment and a water maker in the interior storage chamber of the Pudgy. Here is a useful site with information on creating your own ditch bag.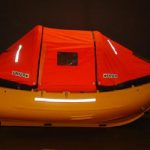 CO2 inflatable three-section canopy.  Transforms boat into 4-person, hard bottom, unsinkable, dynamic life boat (when used with sailing rig or oars).  Self-rights empty boat.  Stores inside Pudgy or is pre-set on gunwales (if used in preset position requires boat cover).  Includes:
Three-section canopy (with 6" dia. flotation tubes around entire gunwale and two 6" dia. support arches)  Adds 430 lbs of flotation.
Bow and stern tubes inflate by two CO2 cylinders (in 17 seconds) or by hand pump  (separate inflation system for each support tube)
Zip in middle section (with two 6"dia. flotation pods orally inflated)
Two top-off/pressure relief valves
Two inflation valves (US Navy approved), two 230 gram CO2 cylinders
Canopy material USCG recommended orange outside, blue inside (anti-nausea)
Canopy secured to boat with 12 st stl  pad-eyes (permanently mounted on boat gunwale)
Three windows (1 forward, 2 sides)
Four SOLAS approved reflective strips
Hole with flap for mast when sailing with canopy set
Rain catcher and spout
Adjustable bow and stern straps to allow access to sea-anchor or tiller
USN approved bellows hand pump​
The boat cover can be used alone, or in conjunction with the exposure canopy.  It is important because it holds the pre-canopy in place when it is pre-set, but not inflated. It keeps the canopy from blowing around and being accidentally inflated.  We offer three models: the basic boat cover as detailed below,  a cover for use when hanging the dinghy from davits, and a cover for use with Weaver davits.  See Price List or Owner's Manual for a description of each type. The basic boat cover includes:
Light gray, Odyssey III, 6.5 oz./sq. yd,  coated polyester.  Custom colors and Sunbrella available at extra charge
Bungee fastener around perimeter plus two 1-wide web straps  w/snap buckles
Two grommet holes for draining. Four grommet holes for tie-down access.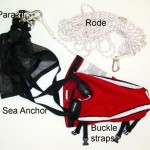 Fiorentino designed a para-anchor type sea anchor specifically for use with the Portland Pudgy  multifunction dinghy. The para-anchor keeps the bow pointing into the waves. This is extremely important. When using the Portland Pudgy as a lifeboat, you must use a sea anchor. The Fiorentino para-anchor is extremely rugged and well made, and is larger than a sea anchor supplied with a conventional four-man life raft. Click to see Fiorentino's training video for setting up a para-anchor. That the para-anchor used in the video is not the Portland Pudgy model, but the principles and functionality are the same.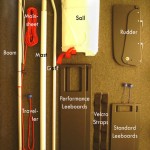 Stores inside boat through transom access hatch. Gaff rig or square head rig. Gaff is more stable. Square head points better and is better in light air.  Sail kit can be used when fore and aft sections of the exposure canopy are in place, with middle section unzipped. Mast fits through front section of canopy. (See slide show at top of this web page.)
Includes:
Telescoping (aluminum) 8-foot mast, two position with push-button release
Gaff (aluminum)
Telescoping boom with yoke and out-haul jamb cleat
Sail, 4.5 oz Dacron, high performance. White or safety orange. Reefs up when used w/ exposure canopy, creating unique dynamic life boat. Reefs down if sailing in strong winds
Kick-up rudder (three-position), rudder post (stores under rear seat), and aluminum tiller with stainless steel rudder/tiller connector and soft foam hand grip
Gudgeons with pintle-lock mounted on transom
Rigging lines, Harken carbo blocks, and traveler line with jamb cleat (mounted on Pudgy)
Two leeboards (standard or performance, same price).  Standard store under rear seat, recommended for survival system. Performance lee-boards (35" long) store under middle seat.
Storage bag for sail, mast, gaff, and boom
Installation of sailing rig hardware when purchased with boat.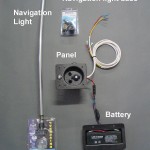 This is also an important although not absolutely necessary part of  the Portland Pudgy survival system. It illuminates the standard built-in compass, a LED reading light (red for night vision), and an LED pole light, and perhaps most important, it has a socket for a torch or GPS. You can recharge it with a solar panel, or with a standard outlet and charger.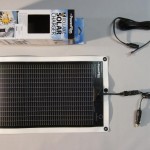 Plugs into electrical panel outlet or other outlets.  Allows charging battery while on the water, in about 6 hours.  Stores in boat or on canopy.  UV-resistant, weatherproof, lightweight, flexible, and durable. Includes:
Rollable solar charger, Power Film R-7.
Operating voltage 14.4. Operating current Amps .45
Dimensions 23 inches x 14.5 inches; (rolled dimensions 14.5 inches x 3.75 inches.
Safety Harness/Lifting Eyes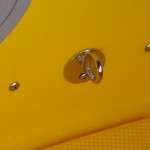 Four stainless steel eyes with backing plates are used as strong attachment points for safety harnesses, and for lifting the dinghy onto davits.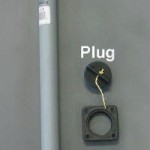 Pumps out storage chamber or cockpit.  Includes:
Manual bilge pump, Beckson, 18"(inserts into storage chamber)
Access port with gasket (mounted on gunwale).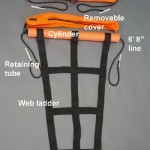 Multifunction Cylinder functions as a boarding ladder, grab line, fender, and foot support to right boat.
Includes:
Foam flotation cylinder with Sunbrella cover, which serves as a fender
Web boarding ladder, which is rolled around foam cylinder and when pulled serves as ladder
Line through cylinder, which secures to boat and serves as a grab line.