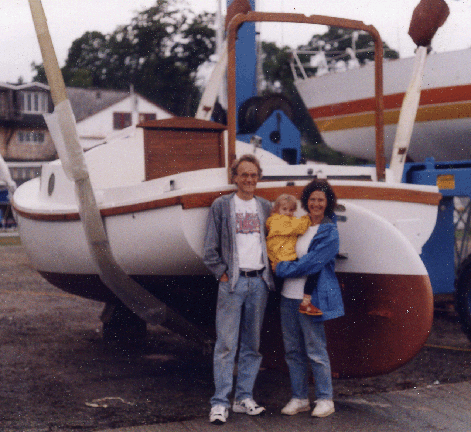 Our mission is to make boating even more fun by making it safer. We make a top-quality, dependable and rugged boat that's not only a self-rescue lifeboat and rugged yacht tender, but also a wicked fun sailing dinghy and motorboat, and a great hunting boat or fishing boat.
Made in the USA…Portland Pudgy President, David Hulbert, an industrial designer, has strived to honor traditional Yankee workmanship in his design, artisanship, and in his support for local businesses. The Portland Pudgy safety dinghy and almost all its components are not only made in the USA, they're made in Maine, or within a two-hour drive of Portland.
History. David Hulbert was challenged by the dangers of sailing his catboat in the icy waters of Maine's Casco Bay and further offshore, with a small child aboard. Always thinking of safety, he realized that in rough weather, his standard dinghy would be useless as a self-rescue boat, and though life jackets might keep everyone afloat, hypothermia would set in in minutes.
He needed a yacht tender and he needed a lifeboat. Why not design a yacht tender that could save your life?
The rest is history.
Officers:
David Hulbert, founder and president. Industrial designer. B.S. University of Bridgeport.  Owner of catboat Sophia. Inveterate sailor.
Deborah Paley, vice president. B.A. Barnard College, Ph.D., Anthropology, Graduate School of CUNY.
Contact us:
Portland Pudgy, Inc., 200 Anderson St., Unit 6, Portland, ME 04101
207.761.2428
info@portlandpudgy.com