Portland Pudgy: Rowboat Testimonials
"The Pudgy rows beautifully, with little effort.. the Pudgy goes where she's pointed.  Period.  Like she's on rails.  No arguments or drama…" Mitch Z., MD.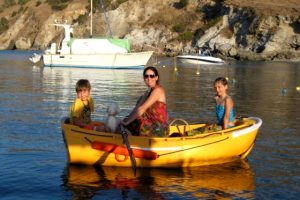 "Just wanted to tell you we had a great time in Catalina with the Pudgy. She worked great on the rocky beaches we visit and, like you said, was very easy to tow and row. Thanks again for all your help and for the great boat!" Craig S., CA (photo above)
More About the Portland Pudgy Rowboat
"My wife and I are very pleased with the Pudgy. With the center seat that flips forward to shift my weight, we can row with my wife in the aft seat without the transom deep in the water and the boat trimmed nicely. Having a white running light is marvelous. It tows very, very well." Rob L., Riverside, RI
"My grandchildren can row the Pudgy very well since the seat heights are in the correct relationship with the oar and oarlocks which is critical for a starter. We had a hard time getting them out of the Pudgy when it was time for them to go home!" George H., Bustard's Island, ME. (He ended up buying a second Pudgy, so he wouldn't have to share with his grandchildren!)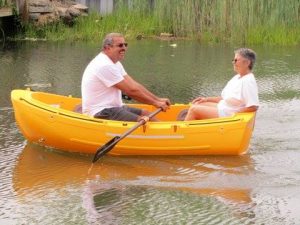 "Just wanted to let you know that after receiving and inspecting my new Pudgy how impressed I am with its quality of construction and how every detail is so well thought out. Now after having taken this little boat out a few times for a row (not being a small man in weight or height ) its stability getting on and off at the dock and its ease of rowing against tide and wind for good distances is truly amazing. This little boat has in every way exceeded all my expectations!!!! I would recommend this boat to anyone who would want a tender for a larger boat or someone like me who just wants to row out to the bay and feel safe and secure in all conditions. Thank you for building such a good product; this seems to be so rare at any price these days." Tony B., NY (photo above)
"Our PP, the O'Crumb being used for a bit of waterfall running at 76 Falls on Lake Cumberland KY. More fun than a barrel of monkeys!" Lew G., KY (photo above)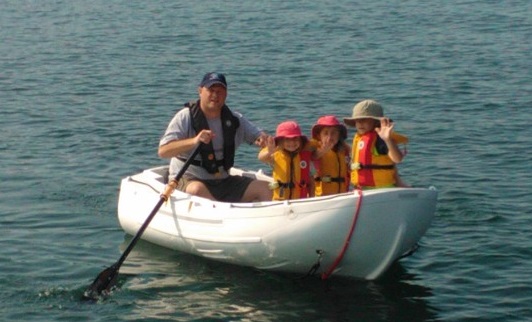 More happy Pudgy owners (above)!
"Sometimes words alone aren't enough, so I added a few pictures as evidence of what you already know: that the Pudgy – while certainly perfect for blue water – also has the versatility to be enjoyed for simple recreation on small lakes (and canals)." Sandy and Tom S., St. Charles, MO (photo above)